Vegan Mix concentrates are aimed at the distribution of natural beverages, each of these characterised by the juice of three fruits and the extract of a spice: the combination of fruits and spices is studied both to create specific harmony of flavours and to enhance the beneficial properties of natural ingredients.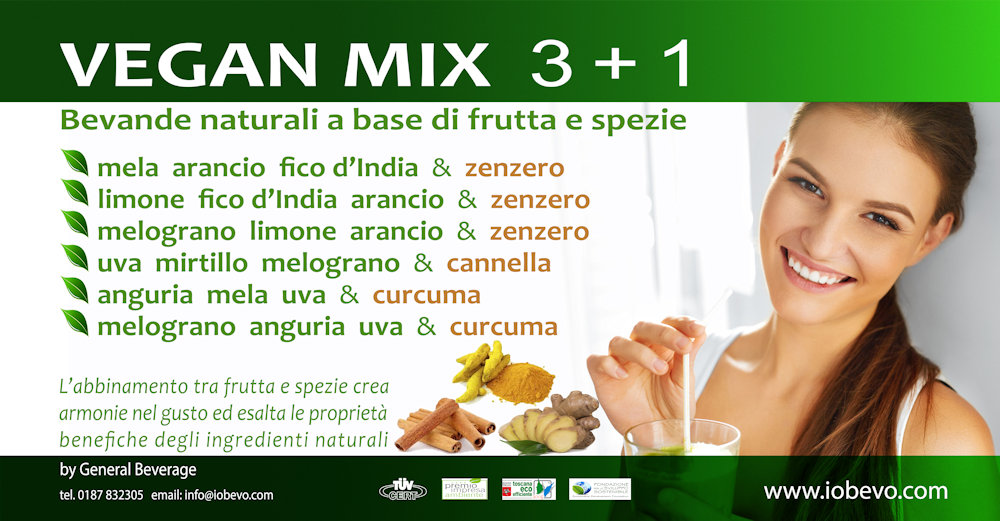 They can be inserted in the specific freebeverage® format or used as an integrative product in different market contexts: wellness centers, gyms, wellness.
These products are packaged in specific vacuum-sealed bag-in-boxes of 5 or 10 liters.
VEGAN MIX 3 +1
MIX 1 - Apple Orange Indian Fig & Ginger
MIX 2 - Watermelon Apple Grape & Turmeric
MIX 3 - Grape Lingonberry Pomegranate & Cinnamon
MIX 4 - Lemon Indian Fig Orange & Ginger
MIX 5 - Pomegranate Watermelon Grape & Turmeric
MIX 6 - Pomegranate Orange Lemon & Ginger
Services
Market sectors