Concentrates and soluble products for Fairtrade® bevarages
General Beverage is a licensee of Fairtrade®, which is the international mark of guarantee for fair trade. It is also a member of the Fairtrade Italia consortium.
In the list below you can find products made with Fairtrade® certificated raw materials:
concentrates for soft drinks, such as Equo Cola, Equo Cola Light, Equo Gazzosa, Equo Bitter, Equo Chinotto, Equo lemon tea, Equo peach tea
soluble products for hot beverages, such as: Equo Ciok, fair trade hot chocolate

Fairtrade

®

coffee beans
The concentrates are packaged in specific vacuum-sealed bag-in-boxes of 10 or 20 liters.
Equo Ciok is packaged in a 500 g bag.
Coffee beans are packaged in a 1kg bag.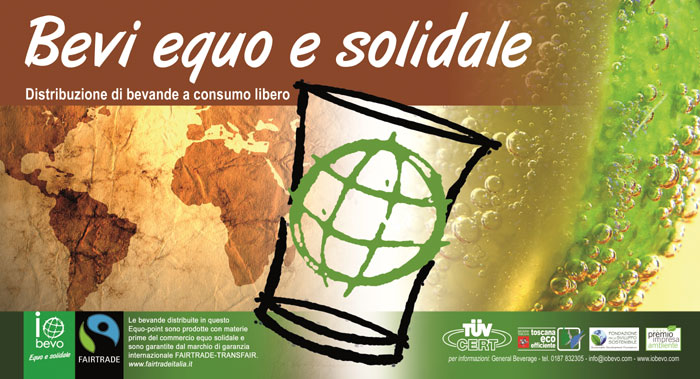 CONCENTRATES AND SOLUBLE PRODUCTS FOR FAIRTRADE BEVARAGES
Equo Cola Fairtrade
Equo Cola Light Fairtrade
Equo Gassosa Fairtrade
Equo peach tea Fairtrade
Equo lemon tea Fairtrade
Equo bitter Fairtrade
Equo chinotto Fairtrade
Equo Ciok Fairtrade – hot chocolate
Coffee beans Meseta Beneficio Fairtrade®
Services
Market sectors