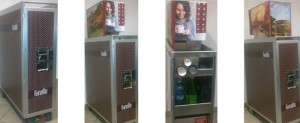 The service consists in the provision of the Trolley Drink on interest-free loan for use and with free servicing. This is a special trolley on wheels, small and easy to use, that we have designed for the distribution of hot and cold beverages in bulk, such as: soft drinks, natural drinks and fruit juices, still and sparkling water, of hot beverages from drink mixes (tea, chocolate, cappuccino, Americano), espresso.
The Trolley uses concentrates in bag-in-box, soluble products for hot drinks and capsules for espresso.
As part of the service we can also customise the Trolley using product images and specific messages, designed according to thethe brand or communication goals of our customers.
For a project already realised with Trolley Drink, we have customised the service with typical Italian regional drinks and fairtrade drinks, evoking, through the choice of products and appropriate communication, a sense of journey, between unicity and identity of territories and openness to the world and its diversity.
The service is aimed at airline catering, train catering, banqueting and all contexts in which it is interesting to propose a mobile system for distributing drinks, aimed at improving the quality of service and allowing elimination of bottles and cans.