We recommend the Big 5 catering io buono dispenser for high distribution requirements in terms of both quantity and timing. This product ensures speed of dispensing, autonomy, consistency and efficiency of the distribution. It is ideal for distributing breakfasts in the tourism sector, especially in contexts where the distribution of espresso coffee is not necessary.
Big 5 catering BevoSano allows, starting from a maximum of 6 base soluble products, to offer up to 12 selections of hot drinks. Moreover, it is possible to set a specific button for the jug dose, bringing the total to 24 possible selections. It can be installed both for self-service and to be used in the kitchen – in this case the staff will be able to distribute the products through jugs or pots.
The beverages are pre-dosed according to needs and all consumption data are stored in an internal software. The dispenser can be placed on an autonomous bench, positioned on a buffet or on a bench already present within the structure.
Specifications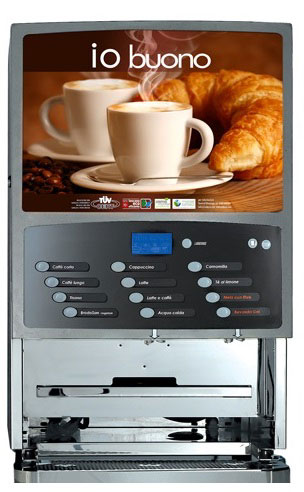 Volt/Hertz: 230 V – 50 Hz
Maximum power consumption: 3,2 Kw
Boiler capacity: 10 Lt
Number possible selections: 12 x 2
Number base products: 6
Outlet temperature: 70° / 90°
Electrical socket: Schuko
Water inlet: ½ "
Weight: Kg 35
Width: mm 500
Depth: mm 540
Height: mm 830
Others specifications
Energy saving
In line with the environmental sustainability features characterizing the services General Beverage, our distributors have been designed and manufactured to achieve significant energy savings. In particular, the boilers are equipped with a special Armaflex AC insulation – a highly flexible material with closed cells.
Armaflex AC description
Highly flexible, closed cell insulating material.
Elastomeric expanded material, based on synthetic rubber with good thermal conductivity.
Its thermal characteristics provide excellent insulation and condensation control.
Resistance factor to water vapor diffusion
μ ≥ 7.000 (Reg. Certificate n. D3319, complying with the EN 13469 Standard for pipes and EN 12086 standard for plates)
Advantages
Guaranteed energy saving
Efficient vapor barrier
In addition, distributors are equipped with a programmable control system for the temperature of the boiler, which can be adjusted according to the specific needs of use. Therefore, the user can decide whether to block or lower the water temperature in the boiler when heating is not required. These operations can be programmed via software.
These features and systems allow to save about 30% of energy consumption in normal ambient conditions.